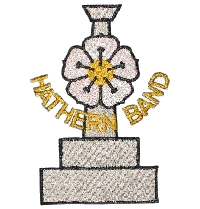 It had looked as though Hathern Band's Charity Concert in aid of LOROS on Saturday 19 January would be cancelled when news was received that Charnwood College, Loughborough had been closed due to the adverse weather conditions. However, Hathern Parish Church came to the rescue and offered the use of the church for the concert. Thankfully, despite the last minute change of venue and the extremely cold and snowy conditions, there was a packed audience to enjoy the Band's varied programme.
The Band and Musical Director, David Newman, set off at a brisk pace with the circus march Waltonian
. Other toe-tapping numbers were Miller Magic, Cabaret, Mack & Mabel and the Lord of the Dance which highlighted the percussion skills of Jake Baum and Joe Southgate on vibraphone and
glockenspiel. The splendid sounds of the trombone section – Simon Baum, Tom Dyer-Hill and Amber Lewis – along with Principal Cornet Mike Wood featured in Hot Toddy. Mike's superb cornet playing was also much in evidence both in the Nat King Cole hit, When I Fall in Love and the delightful number A Nightingale Sang in Berkeley Square.
Percussionists Jake & Joe took centre stage to give a brilliant and amusing performance of Liszteria, with the two xylophones battling for the audience's attention and both came out triumphant! As a complete contrast the Band played the Cole Porter number I've Got You Under My Skin, featuring the melodious tones of Susan Robinson on cornet and Lesley Bentley on flugel horn. To bring the concert to a close was an arrangement by Joe Southgate of the Dr Who theme, aptly entitled 11th Hour! This was the Band's 12th Concert in support of LOROS and as in previous years the concert benefited from support by Barclays Bank under their £for£ Scheme. Despite the difficulties, the wonderful sum of £1,869.00 was raised for the Hospice, including a donation of £750.00 from Barclays under their match funding scheme.
On behalf of Hathern Band David Newman thanked Church Members John & Rosemary Worsfold for their tremendous help in enabling the concert to go ahead. He also thanked the audience for their support and Barclays for their on-going commitment to the annual concert. Despite the wintry weather, everyone went home with a warm glow after a great evening's entertainment and helping to raise nearly £1,900.00 for the Leicestershire & Rutland Hospice, which brings the total amount raised since the first concert in 2002 to over £25,000.