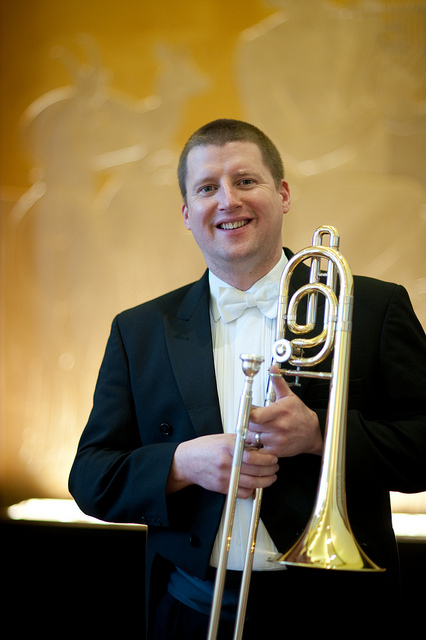 The world's oldest, continuously playing brass band, Besses o' th' Barn Band of Whitefield, North Manchester has appointed Simon Cowen, aged 42, Principal Trombonist of the Royal Liverpool Philharmonic Orchestra, as its new Musical Director. The appointment takes effect immediately.
As a trombonist, Simon has played with all the major UK symphony orchestras including the City of Birmingham Symphony, the Academy of St. Martin in the Fields and the London Symphony Orchestra. He has performed under the baton of such famous conductors as the late Sir Charles Groves, Sir Simon Rattle and the late Carlo Maria Giulini. Simon was also principal trombone with Black Dyke, Fairey's and YBS brass bands for many years.
In 2012, he performed a concerto for two trombones alongside the trombone virtuoso Christian Lindberg with the Royal Liverpool Philharmonic Orchestra, with whom he is now principal trombonist. Simon has also played on many film and TV soundtracks and performed with acclaimed pop bands such as Elbow and Beautiful South.
Simon Cowen says he is delighted to be appointed musical director and principal conductor with Besses o' th' Barn Band:
"It is an absolute privilege and a real honour to be working with one of my all-time favourite brass bands. The history of the band itself is quite incredible and I remember enjoying listening to them as a youngster and becoming a big fan. It is going to be a very exciting year with the band as we work towards their 200th anniversary, with many concerts in the schedule. The atmosphere in the band room is simply fantastic and the dedication from each player is to be highly commended. I am very excited about a very happy future with this fabulous band."
Besses Band chairman David Hodgkinson said,
"The entire band is thrilled to have someone of Simon's huge musical talent and experience as our new musical director and principal conductor. We are confident that with Simon at the helm we shall sail into the future on top form and celebrate our bicentenary in 2018 with renewed vigour and enthusiasm."
The Band has launched a new recruitment campaign under the additional title "World famous Lancashire brass." Both young and experienced brass and percussion players are welcome to audition. For further details call Dr Yaakov Wise on 0161 720 9588 or email yaakovwise@aol.com.